---
---
Information relating to Elis's proposed transaction with Berendsen
---
---
---
Share capital increase with preferential subscription rights for approximately €325m
---
Acquisitions of Indusal and Lavebras
Calendar
| | | | |
| --- | --- | --- | --- |
| DATE | TIME | EVENT | WEBCAST LINK |
| Tuesday 19 May 2020 | 3pm CET | Shareholders' Meeting in Paris | |
| Tuesday 28 April 2020 | 6pm CET | Q1 2020 revenue | |
| Wednesday 4 March 2020 | 9.30pm CET | FY 2019 results | |
| Thursday 24 October 2019 | 5:40pm CET | Q3 2019 Revenue | |
| Wednesday 24 July 2019 | 6pm CET | H1 2019 results (conference call in English) Confirmation code: 7659437 | France : +33 (0)1 76 70 07 94 | UK: +44 (0) 207 192 8000 | US: +1 866-966-1396 | Webcast |
| Thursday 23 May 2019 | 3pm CET | Ordinary Shareholders' Meeting | |
| Thursday 2 May 2019 | 5:40 pm CET | Q1 2019 revenue | |
| Thursday 7 March 2019 | 9:30am CET | FY 2018 results (Physical meeting in London Hotel Four Seasons - 10 Trinity Square, London, EC3N 4AJ) | Webcast |
| Wednesday 30 January 2019 | 5:40pm CET | Q4 2018 revenue | |
| Thursday 25 October 2018 | 9:00am CET | Q3 2018 revenue (conference call in english) Confirmation Code: 5806783 | France: +33 (0)1 76 77 22 57 | UK: +44 (0)330 336 9411 | USA: +1 646-828-8143 | Webcast |
| Wednesday 25 July 2018 | 6mp CET | H1 2018 results (conference call in English) Confirmation code: 7079317 | France: +33 (0)1 76 77 22 57 | UK: +44 (0)330 336 9411 | USA: +1 323-794-2094 | Webcast |
| Friday 18 May 2018 | 3pm CET | Ordinary Shareholders' Meeting | |
| Wednesday 2 May 2018 | 5:40pm CET | Q1 2018 revenue | |
| Wednesday 7 March 2018 | 9:00am CET | FY 2017 results (conference call in English) | Webcast |
| Tuesday 30 January 2018 | 9:00am CET | Investor day | Webcast |
| Thursday 26 October 2017 | 6:00pm CET | Q3 2017 revenue (conference call in English) | Webcast |
General Meetings
General Meetings and their remits

The General Meeting discusses the points on its agenda, which are typically defined by the Board of Directors. Its members include every shareholders, regardless of the number of shares that they possess.

The shareholders may attend the:
Annual General Meeting (AGM), which meets once a year to share information with the shareholders on the company's activities and performance, approve the annual accounts, finalize the amount of the dividends to be paid out, and nominate and renominate members of the Board of Directors;
Extraordinary General Meeting (EGM), convened whenever the shareholders' approval is required in order to modify the company's statutes or issue shares to increase its share capital;
Combined Annual and Extraordinary General Meeting (AEGM), which is an amalgamation of the two meetings described above, on the same date and the same invitation.
Pursuant to the provisions of Articles L.225-108 and R.225-84 of the French Commercial Code, each shareholder has the possibility of sending written questions to the company. Such questions must be sent either to the company's head offices, by registered letter with acknowledgement of receipt, or by electronic telecommunications to the address
investors@elis.com
, at least four business days prior to the date of the General Meeting. A certificate of registration on the company's books must accompany those questions.
Ordinary Shareholders' Meeting of May 23, 2019
Ordinary Shareholders' Meeting of May 18, 2018
Extraordinary and ordinary shareholders' meeting of august 31, 2017
Combined Shareholders' Meeting of May 19, 2017
Ordinary Shareholders' Meeting of May 27, 2016
Ordinary Shareholders' Meeting of June 24, 2015
---
Share Price
Shareholding Structure
Share Price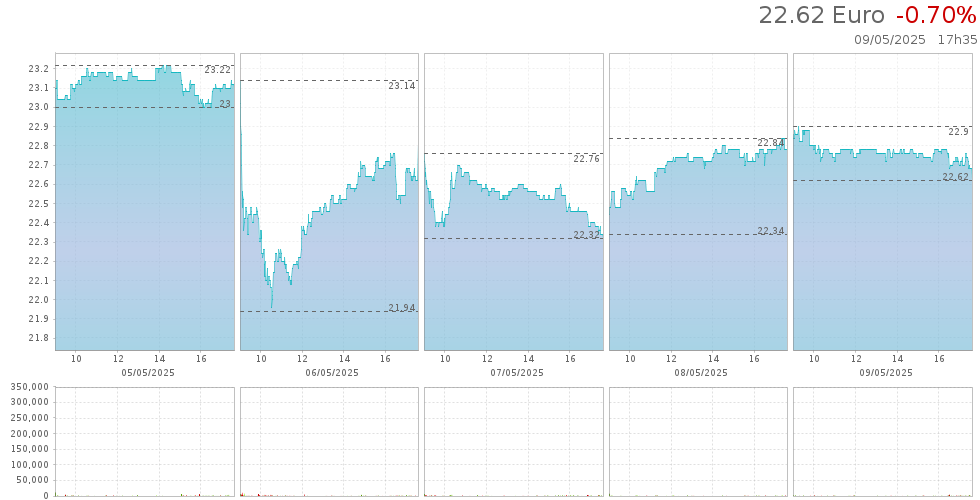 History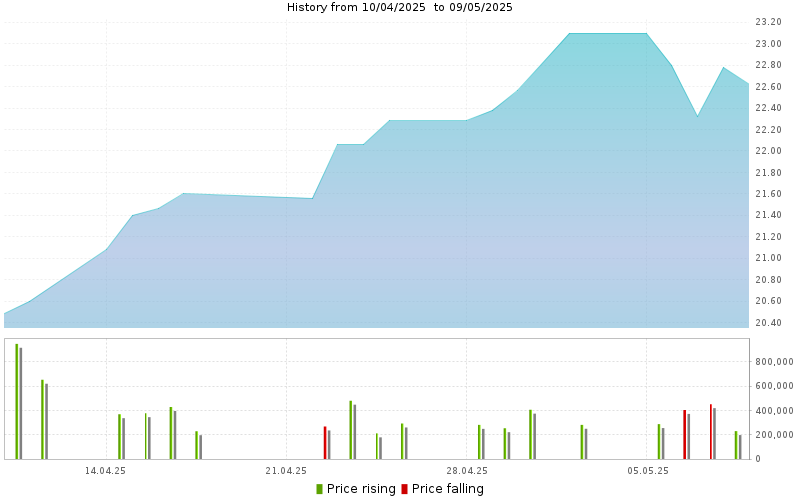 ---
Rating agencies
| | | |
| --- | --- | --- |
| | BB+ | Stable outlook |
| | BB | Stable outlook |
| | Ba2 | Positive outlook |
| | BBB low | Stable outlook |
Elis is included in Gaïa Index 2019
Gaia Rating, the ESG rating agency of EthiFinance, is conducting an annual data collection campaign covering most of the listed SMEs in France. Based on this information, companies are rated on their level of transparency and performance. Rankings are established by category of revenue in order to reward the best actors from a small panel of 230 SMEs -ETI listed on the Paris stock exchange respecting 3 size criteria and a liquidity criterion. Ratings are used by leading asset management companies in their investment process and decisions.
Elis certificat 2019 Gaïa Rating